› ›
General Appointment
For private appointments and enquiries, please call Helen Sellars on 020 7993 2373 or to book an online appointment click here.
We are happy to hear from you. Please contact us using the information below

Private Patients
London Clinic
5 Devonshire Place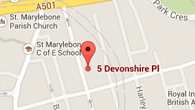 London
W1G 6HL
Telephone: +44 (0) 20 7935 4444
Click here for driving directions and location map.
Spire Bushey Hospital
Heathbourne Road,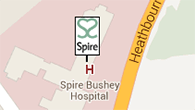 Bushey Watford,
Herts WD23 1RD.
Telephone: 020 8901 5555
Click here for driving directions and location map.
Spire Harpenden Hospital
Ambrose Lane,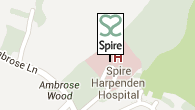 Harpenden,
Hertfordshire AL5 4BP.
Telephone: 0800 585 112
Click here for driving directions and location map.
---
NHS Patients - Please Read
After 17 years of service, Mr Gordon stopped working within the NHS Trust. For a period, he continued to treat NHS patients at Spire Harpenden Hospital, however as of June 2017, he is not accepting any new NHS referrals.
---
Healthcare Professionals
If you are a GP, physiotherapist or other healthcare professional and would like to refer a patient to Mr Gordon, please go here. If you would like to discuss a patient with Mr Gordon, whether referred to him or not, please email Mr Gordon's PA Helen Sellars [javascript protected email address] or call 020 7993 2373.
Telephone: 020 7993 2373
E-mail: [javascript protected email address]
Website: www.davidgordonortho.com
Please arrive 10-15 minutes early for your Appointment for registration and to fill in a health questionnaire.
When you come for your appointment please remember to obtain and bring the following:
Referral letter from GP, family physician or other doctor
Have your Private Hospital Insurance information (insurance policy number and authorisation number) with you
Copies of results of X-rays, MRI's, or CT scan etc. and any other relevant information
If you need to cancel an appointment
Telephone the office during business hours and allow at least 1 days' notice so that we can offer your appointment time to patients on our waiting list.
We recognise that your time is valuable, and we make every effort to run on time. Occasionally emergencies or patients require a little more time, and these cause scheduling delays beyond our control. We apologise if we keep you waiting.