"I was fortunate enough to find and meet David Gordon"
"He instilled a calm and uba professional approach"
"He explained clearly the procedure, and exactly what he needed to do"
"He made me feel I was in a very safe pair of hands"
"The scars on my foot can hardly be seen"
"I am at last free to wear my Jimmy Choos' for my company Christmas party this year!"
"I cannot recommend David Gordon enough"
"He has a great bedside manner"
"He made me feel cared for and well looked after"
"I would highly recommend him to anyone who needed any of the surgeries he specialises in"
"Mr Gordon's PA is fantastic, she was a brilliant support for Mr Gordon – a superstar, and very efficient."
"I would urge you to contact Helen, arrange to meet Mr Gordon and put yourself in his very capable hands"
"Absolutely sound guy, great support and brilliant at what he does"
"At my first appointment Mr Gordon put me at ease"
"He explained the procedure clearly, showed me the scans and what he hoped to achieve"
"The operation has been a success, better than I could ever have hoped for – I have no pain in my ankle!"
"Thank you for restoring my knee to it's former glory!"
"After months of pain from a meniscus tear, it was such a relief to finally have the surgery and be pain free after months of difficulties"
"He always had time and listened to what we had to say"
"Once again we cannot thank him enough for his time and patience"
"No matter how minor the question may have been, Mr Gordon's PA followed it up quickly,checking personally with Mr Gordon and gave a speedy response"
"If I had known about Mr Gordon 5 years ago when I sustained an injury to my right foot, I would never have left it!"
"I saw Mr Gordon whose professional yet easy, personable approach left me in no doubt that my foot would be in the best hands!"
"Thank you Mr Gordon an excellent surgeon with a flair for patient care!"
"He is very knowledgeable in his subject, his professionalism is complemented with a very caring and respectful nature"
"Mr Gordon is extremely patient focused"
"My father thinks very highly of Mr Gordon and is reassured that if we need further input, we can ask the GP to re-refer to him"
Mr David Gordon
Consultant Orthopaedic Surgeon,
Foot and Ankle Specialist
Mr David Gordon is a Consultant Orthopaedic Surgeon, specialising in the treatment of foot and ankle conditions, with a particular interest in minimally invasive bunion surgery and sports injuries. His practice is based in London and Hertfordshire, England. He strives for surgical excellence and believes in involving his patients in decision making throughout their treatment. Fundamental to this is excellent communication...

Read More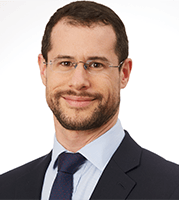 The Bunion Doctor's 2022 Marathon Challenge!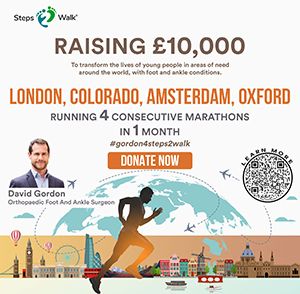 4 MARATHONS, 3 COUNTRIES, 2 FEET, 1 MONTH!
Mr David Gordon will be running 4 consecutive marathons this October to raise £10,000 for humanitarian orthopaedic foot and ankle charity, Steps2Walk
TCS London Marathon, UK (2nd)
Boulderthon, Colorado, USA (9th)
TCS Amsterdam Marathon, Netherlands (16th)
The Abingdon Marathon, Oxfordshire, UK (23rd)
Please support him and this wonderful charity by donating as generously as you can. Thank you!

Learn More & Donate