Big Toe Arthritis (Hallux Rigidus) - Cartiva Joint Replacement

› › › ›
Big Toe Arthritis (Hallux Rigidus) - Cartiva Joint Replacement
Cartiva Bog Toe Joint Replacement Surgery Video
Joint Replacement - Cartiva Synthetic Cartilage
The aim of this procedure is to relieve pain of an arthritic toe joint while preserving movement (unlike a fusion which stiffens the joint completely). This will allow you to wear a heel and participate in activities involving bending the big toe joint. Joint replacements become loose over time, requiring further surgery, often being converted to a fusion. However, the Cartiva has shown excellent 5 year results (published 2016), with 94% survival. Mr Gordon will discuss this with you when you are trying to decide which operation to have. Mr Gordon uses the Cartiva Big Toe Joint Replacement as it gives good results, has a quick recovery time after surgery and has supporting scientific evidence for its use. More information about the Cartiva Big Toe Joint Replacement can be found here. Mr Gordon's post operative recovery protocol for the Cartiva Big Toe Joint Replacement can be found here.
5 Year Clinical Data
In the most recent study (Daniels et al 2016), 5-year follow-up on a 27 patient cohort from Cartiva's pivotal clinical trial, functional outcomes improved significantly, pain was reduced significantly, and Cartiva demonstrated excellent durability and survivorship at five years post-surgery. Furthermore, patients maintained their great toe motion and were satisfied, with 96% of patients indicating they would undergo the procedure again.
The following text/tables demonstrate the 5-year outcomes for Cartiva.
97% Reduction in Pain
112% Functional Improvement
50% Improved Range of Motion
Further information can be found here.
97% Reduction in Pain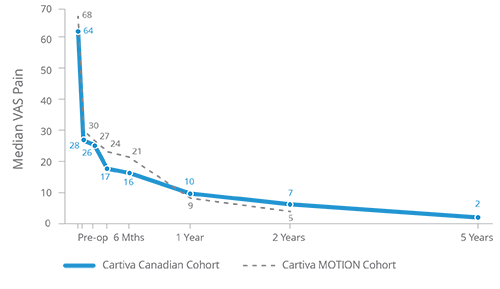 112% Functional Improvement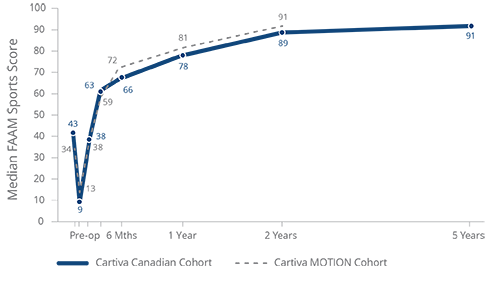 50% Improved Range of Motion